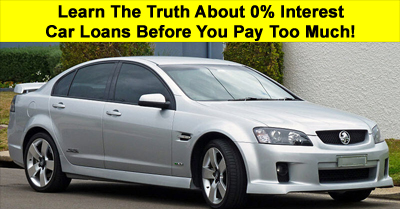 There's been a lot of press and hype about the introduction of 0% – 1% – even 2% interest rate loans (or super-low percentage "comparison rate" loans) for new cars.
On the surface, it sounds GREAT! After all, who wouldn't want a loan for a new car with Zero percent or Super-low interest charges?
HOWEVER, as with most things that sound too good to be true, when you start to dig a little deeper, you discover that it's not quite as black and white as it first appears.
How it works is that car manufacturers are offering (for example) 0% – 2% Interest finance on new cars but they are selling those cars at full retail rather than discounting them as part of the normal negotiation process.
Because the car dealer loses the additional profit they would normally make on providing finance to a new buyer, they make it up by not discounting the sale price of the car (&/or they also offer less on your trade-in to boost their profits as well). They will also usually reduce the loan term to (typically) 3 years rather than the normal 5 years, to reduce the money they lose on this kind of finance. That means your monthly payments will be higher than you might be willing to pay. They might even require a large deposit to qualify for this kind of loan…
At the end of the day the 0% interest deal is just a marketing ploy to get you into the dealership. Once you're there, if you don't qualify for 0% finance, they'll work hard to sell you a car using normal finance, which they can often make more money on.
The 0% interest rate issue came to light in the press back in 2012 when Holden was offering a 0.5% Interest offer. This was reported by The Age's Drive website:
Customers have a choice of taking up the 0.5 per cent finance offer and paying the full retail price of the car – or pay cash or arrange their own finance and haggle a sharp drive-away price.
In some cases, buyers may be better [off] arranging their own finance and negotiating a sharp price on the new car (see example below):
Does the 0.5 per cent deal add-up?

Holden SS ute at full retail: $47,000 drive-away.

0.5 per cent finance on $47,000 over three years is $310 per week.

Holden SS ute discounted to $38,000 drive-away.

12 per cent finance on $38,000 over three years is $293 per week.
So, before you fall for the 0% "super-duper" finance deals on offer, call Best Loans on 1300 399 092 today or fill out the loan quote form below and have our team find a great loan for you on a discounted vehicle and save money! We'll be happy to explain the differences between the loan types, and show you how a "normal" loan can be cheaper for you than a super-low rate deal.