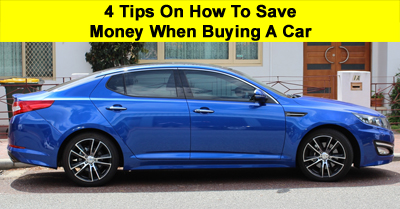 So, you're thinking of buying a car and you're now shopping around for a loan.
From our experience, most people just focus on getting the lowest interest rate possible on their loan, but in fact, there's plenty of other ways to save money, AND it's often much easier saving a few thousand dollars off the purchase price of your car than getting a 1 or 2% decrease in your loan interest rate.
So we thought we'd give you a few tips to consider.
Tip 1: Negotiation – you can buy the car you desire, but by negotiating hard and combining the elements of Tip 2 (below), you could knock off an extra $2-10 thousand, dependent on the vehicle and market conditions.
Also, arrange finance before you start looking at cars. Knowing you've been pre-approved and that the money is on standby will give you the confidence to negotiate a better deal from the vendor.
Tip 2: Timing – WHEN you buy a car can also have a big impact on the price you get. For example, buying near the end of the month is a good time because dealers are often trying to hit monthly sales targets and can be more flexible on price if they need to get a few last minute sales over the line to reach their target.
Also, consider buying run-out models. When a new model is on its way soon, dealers will be trying hard to get rid of stocks of the current model (which are about to become last year's model). This way, they will only have new models to sell when it arrives into stock. You can often get a great deal in this situation.
And one other option is to NOT buy new models that have just come onto the market. When a car model is brand new, they tend to have limited local availability and lots of appeal to "early adopter" buyers. Because of this, dealers will tend to sell them at full RRP simply because you can't get that car anywhere else either. With no one else willing to bargain on price due to the newness and limited availability of a new model car, they can afford to not negotiate on the price.
Tip 3: Trade-in – An additional factor to consider is your trade-in (assuming you have one). In most cases, a car dealer is going to low-ball you on the trade-in price as a way of making more profit on the deal.
So, something you should consider is selling your vehicle privately as a way to make more money, which cuts down on the amount of money you need to borrow when you purchase your next car.
It's not that hard to sell cars privately these days, with websites like Gumtree, Ebay Motors or Car Sales allowing people to list their car for private sale on the web.
The cost is low, and you get lots of potential buyers looking through these sites, so finding prospective buyers is much easier than just relying on your network of family and friends, or parking your car on the front lawn with a For Sale sign in the window!
Tip 4: Optional Extras – Another way you can save money when buying your car is to not buy all the optional extras the car dealer *will* try to sell you.
Without fail, you'll be "encouraged" to buy paint protection, rust proofing, window tinting and a heap of other OPTIONAL extras when buying through a dealer.
These extras are just that – optional! But, the dealer will try hard to upsell you on them, because it's more profit in their pocket!
AND, if you actually do want any of these extras, you can often buy them from a 3rd party supplier much cheaper than through a car dealer.
Do your research on optional extras pricing (Google is a good place to start) BEFORE you purchase your car, and you'll know whether they are ripping you off or not.
So, with a low interest rate car loan pre-approval, hard negotiation on the purchase price, selling your current vehicle privately and not paying top dollar for additional extras – thousands of $$ can be saved through the vehicle purchasing process.
By the way, if you don't feel confident negotiating for a better price, why not give us a call and we'll put you in touch with our Free Car Finding service. They can usually get better prices than you, because of their National Buying Power in the industry, and they will also do all the negotiating leg work for you.
As always, if you have any questions about these tips, just email us or ring 1300-002-130 and one of our loan specialists will be more than happy to answer them for you.
And, if you haven't gotten a loan quote from us yet, click here to get started.
One of our Loan Specialists will be in touch to collect the extra information all lenders require, and then we can shop around for the best loan for you, and come back to you with a confirmed quote and pre-approval, all normally within 24 hours.