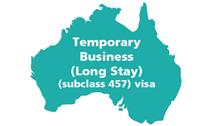 If you are living and working in Australia long-term on a Temporary Business (Long Stay) 457 Visa, you can apply for a loan for a new vehicle.
Please note that the term of your loan does need to end 3 months before the expiry of your visa.
Please note: We cannot provide loans to people in Australia on a Student, Bridging or Refugee Visa.
Why Use Best Loans?
Negotiate a better price on your new car with a pre-approved loan * (ask us how)
Competitive loan interest rates *
Loan terms from 2 – 7 years available
Finance a new or used car brought privately or from a dealer
Choose payment intervals to suit you (weekly, fortnightly, monthly)
No need to wait for an appointment – answers within 24 hours in most cases
Deposit free loans *
* To approved applicants