Your bank rarely has more than 1 or 2 car loan options. It's the same at the finance office of the car dealership.
If you don't get approved or their interest rate and fees are too high, you're out of options. No loan = no car!
We have 21 lenders who offer many more loan options than banks & car dealers.
Because of this, you're more likely to be approved with 1 or more of our lenders.
You also have a better chance of getting a lower rate. We usually beat the banks and dealers on rate!
More choices = better loans = your next car!
All it takes is 5 mins on the phone with one of our Finance Consultants to collect the details they need to find the best loan/s for YOUR unique circumstances. We do all the work, leaving you to focus on finding a car you love.
To get started, complete the simple loan quote form and we'll be in touch to review your options.
Note: There's no obligation getting a loan quote from us. This means you're not locked into anything. If you decide not to proceed with the loan offer/s we find for you, you can say no at any time.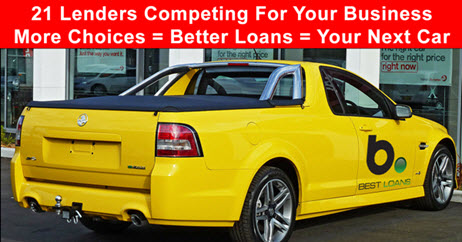 Some Of The Lenders We Use: