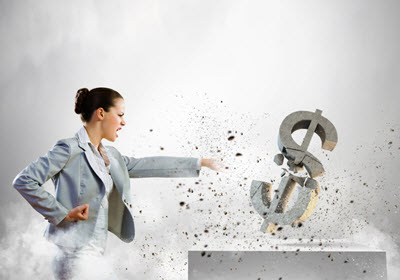 Lender's Mortgage Insurance (or LMI as it is commonly referred to) is a term often found in discussions regarding home loans.
LMI protects the lender, not the borrower, in the event that the borrower defaults on the loan and the security property is repossessed and sold.
If the sale price is not adequate to cover the loan amount outstanding, the LMI covers the difference for the lender.
Most lenders will only lend you up to 80% of the security value (80% loan-to-value ratio, or 80% LVR) for a 'standard' loan, or 60% LVR for low-documentation loans on their own.
With LMI, this increase up to 95% LVR for standard loans, or 80% for low-doc loans. This means that obtaining finance with less than the 20% deposit (or 40% for low-doc) is made possible!
The cost of the LMI premium is payable by the borrower and can be many thousands of dollars. Usually, all or part of the premium can be capitalised (added to the base loan amount) thus avoiding you needing to pay this upfront.
The LMI premium is determined by several factors:
The loan amount;
The security value;
The security type and location (e.g. house, vacant land, apartment)
The loan purpose (e.g. investment, building a home)
The borrower status (e.g. full-doc or low-doc, First Home Owner).
LMI is organised by the lender as part of the application process.
It is important to realise that LMI premiums are generally not refundable or transferrable between lenders.
If a loan with an existing LMI premium is increased then the existing premium is taken into account in most instances, but if you wished to refinance with another institution and LMI was payable at the new lender, your existing LMI premium cannot be transferred.
This point is often overlooked by the media when they report that you should switch lenders to get a lower rate – having to pay a LMI premium can often negate any savings made by a lower interest rate.
Your Best Loans broker will calculate the LMI premium when assessing any loan you are applying for as part of determining your finance options.
Click here to request an appointment with our mortgage broker to discuss your options.
Disclaimer: Loans are approved or declined on their merits by the specific lender and a loan approval is not guaranteed. We believe the information on this page to be correct. However, we can give no warranty to this effect and expressly disclaim any liability for loss or damage by any person acting upon the information provided herein.