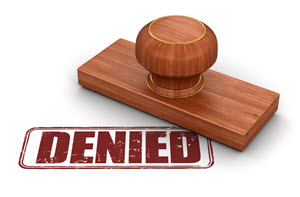 If you have any concerns about getting approved for a car loan, your best bet is to fully understanding how lenders evaluate applicants, so you can deal with the "gotcha" issues upfront and then be in a stronger position to get that approval you want.
And, if you already have been knocked back for a car loan, keep reading, because the below information could be the answer you're looking for.
Here are 10 common reasons why you might not get approved for your loan:
Your credit file: Every adult in Australia who has ever applied for any form of credit (whether car/home loans, credit cards or even a mobile phone contract) has a credit file. This file stores information about your applications for credit and also how well you pay that credit off. If you've defaulted on credit payments in the past, it will be listed on your credit file. Lenders review your credit file and if your history isn't good, you'll either get refused credit OR the interest rate you have to pay will be higher than normal to offset the risk a lender takes in loaning money to someone with bad credit.
Low income: With changes to the laws surrounding credit some years ago, lenders are no longer allowed to loan money to people who cannot afford to repay that loan. Therefore, if your income level is too low, you may not be approved for a car loan. These requirements are in place to protect the consumer and strong penalties apply for breaking them.
Occupation Status: All lenders want to know how you earn your income (i.e. the specifics of your job or business) so that they can determine whether you can afford to pay the loan on time and in full. However, in this day of complicated employment situations (full time, part time, casual, contract, self employed, labour hire, etc.), it's not always simple to get approved for a car loan due to various different lenders' policies around an applicant's occupation. Issues such as the length of time you have been in a job and how you earn your money can sometimes see loan applications rejected by 1 lender when they might have been approved by a different lender. You NEED the expertise of a team of brokers like Best Loans to help you navigate the complexities of this segment of the loan process and find a solution that your bank might not have available.
Low capacity: This means you spend nearly all you earn each month (rent, existing credit repayments, food, children, cost of living, etc.) and therefore don't have enough spare "capacity" to service the loan repayments. This can apply to high income earners just as easily as low income earners.
Unemployed/On Centrelink: If you're unemployed or on very low income (such as Centrelink), you will not be able to get approved for a car loan if this is your sole source of household income. The only way around this – aside from getting regular employment and meeting all standard lending criteria – is if you have an additional income source (such as part time employment, interest on investments, rental income from properties, etc.) that can comfortably meet lender requirements.
Note: If you are on an aged or disability pension, you can sometimes borrow for a car loan if you own your own home outright and have no other debts.
Purchasing an older car: A lot of people don't realise that the age of the car they want to finance can affect their ability to get approved for a loan. Given most people finance a car with a "secured" loan, you usually pay a lower interest rate than for other kinds of lending – but it also means that if you fall seriously behind on your repayments, your lender has the right to sell your car to get their money back. Because an older car has a lower resale value, the lender can view this as a high risk transaction and refuse to approve your application. As a general rule, cars financed with secure loans must be no older than 12 years of age by the time you have finished paying the loan off. While some lenders will finance older cars, the interest rates are usually a lot higher so they tend to not be as attractive to the borrower.
Lack of Deposit: In some cases, a lender will require you to put a deposit into the purchase. By reducing the loan amount against the vehicle value, this reduces the risk to the lender, and improves the applicant's chances of getting an approval. This tends to apply mostly to applicants with a weaker financial record &/or those buying a higher priced car in comparison to their disposable income. Obviously, if a deposit is required and you can't provide it, it puts your chances of a loan approval at risk.
Residential Stability: If you move house regularly for financial reasons rather than job-related reasons, lenders will tend to view you as less stable financially, and therefore more likely to default on your loan repayments. In this scenario, you either won't get an approval until you can demonstrate greater stability in where you live, OR you may get approved but at a higher interest rate.
Buying Privately: While financing a car that has been purchased privately is not normally going to get knocked back, there are circumstances where you won't get approved for a private purchase. With a secured car loan, the lender has to ensure they are getting the funds to the rightful owner of the vehicle you are purchasing, and they want to make sure that the vehicle is the correct vehicle as per the registration certificate, as they are using that vehicle as the security over the loan. If the SELLER of the vehicle can not provide all the documentation required to meet the lenders requirements, you will not get approved for this car loan.
Bankruptcy: If you are bankrupt or in a Part IX debt agreement, this will be displayed on your credit file, and you will not be able to get a loan approval until your bankruptcy status has been discharged. This can take up to 5 years to finalise. Once your discharge status has been updated on your credit file, lending options can become available.
So, there you have it. 10 car loan "no-no's".
If you have concerns about any of these 10 and want some advice on how to best deal with them, we invite you to speak with one of our specialist loan consultants.
While we can't help you get a full-time job or increase your income or get out of your bankruptcy status, we can often advise you on how to best deal with the other challenge/s you might be facing.
With 21 lenders on our panel, we have a LOT more options than your bank or the car dealer when it comes to finding the RIGHT finance solution. Don't assume we can't help just because you got knocked back by another lender. EVERY lender has different criteria for evaluating loan applicants, and what's required for one lender could be completely different for another.
If you'd like to get a loan quote &/or discuss your situation with us, just complete the form below and one of our consultants will call you back within 1 business day (usually the same day).